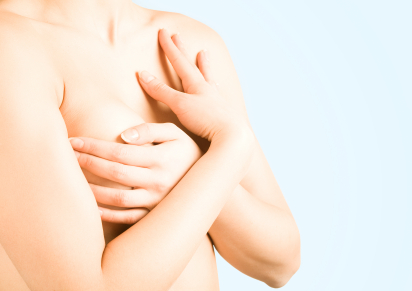 In years past, breast cancer treatment almost always involved a so-called "radical mastectomy" in which, to be sure that all possible traces of the disease were eliminated, the surgeon removed the entire breast, including the nipple, all lymph nodes in the armpit, and even the muscles of the chest wall under the breast.  Today, while ensuring complete removal of the tumor is still the objective, radical mastectomies are no longer performed, and women are surviving breast cancer in greater numbers while keeping more and more of their natural breast tissue.
Amazing advances in oncological lumpectomies and tissue-conserving mastectomies now enable surgeons to precisely target cancerous cells while preserving sufficient natural breast tissue to support less invasive forms of reconstructive surgery.  In the hands of talented, capable, experienced reconstructive surgeons such as Dr. James Black and Dr. Michael Arnstein, many breast cancer survivors can now take advantage of next-generation fat transfer and implant technology to achieve a natural-looking breast profile and feminine, beautiful breasts safely and effectively.  At their Torrance, CA office, Drs. Black and Arnstein will work closely with you to determine which form of breast reconstruction is best for you, and walk you through the entire process to ensure long-lasting, naturally-beautiful results!    
Post-Lumpectomy Breast Reconstruction Options
For women who have undergone a lumpectomy or a tissue-conserving mastectomy, the goal of breast reconstruction is to ensure symmetry between the impacted breast and the non-impacted breast, for a balanced, natural-looking chest profile.  For instance, if only a small amount of tissue was removed during the lumpectomy and the patient is comfortable with smaller breasts, the surgeon may recommend a breast reduction on the non-impacted breast to ensure symmetry.  The key to a successful reconstruction is always working closely with your surgeon to ensure that he understands your concerns and aesthetic goals, so that your reconstruction surgery meets those goals exactly.  
Fat Transfer
In some cases, a fat transfer may be sufficient to repair the damage done by the lumpectomy and recreate symmetrical breasts.  This procedure involves transferring fatty tissue from one area of the body, usually the abdomen or the buttocks, to the breast where it can be molded and shaped to achieve the volume.  Fat transfer procedures offer a number of significant benefits.  First, because it does not involve use of a foreign object, the risk of rejection is lower and the chances that the fat will permanently graft to the chest are greater.  Second, it has the added benefit of leaving the donor areas of the body slimmer and shapelier!
Reconstruction with Implants
In some cases, reconstruction using implants may be more appropriate.  This procedure takes several months and multiple surgical procedures.  It is more invasive than fat transfer but generally less invasive than a "flap" procedure.  Reconstruction with implants can be completed in our warm, comfortable offices in Torrance, CA.  This form of breast reconstruction has two or three steps, depending on the extent of tissue removed during your treatment:
Step 1: The surgeon will place a small, empty balloon within the breast, then carefully fill it a small amount with sterile saline solution, taking care not to damage existing incisions.  This "tissue expander" will slowly stretch your existing breast tissue; over the next weeks, the balloon will be filled several times with additional saline to continue stretching the tissue slowly, safely, and comfortably.  Often, the skin is stretched to a little bit greater than the final desired breast size to accommodate inevitable shrinkage once the expander is removed.
Step 2: The tissue expander will be removed and replaced with an implant selected to match your existing breast or create new breasts that are the exact size and feel that you feel best matches your unique frame and anatomy.  Implants can be either saline or silicone (see below for additional details).
Step 3: If your mastectomy involved removal of your nipple, your surgeon can recreate the appearance of a nipple from your natural breast tissue and skin.  Once the nipple has healed, it will be colored to match your existing nipple (if applicable), along with an areola, through a safe tattoo process.
Choosing the Right Implant
Today's highly advanced, next-generation implants make this form of breast reconstruction safer than ever, and enable the re-creation of breasts that fit your unique frame and physique, and look and feel completely natural.  While implants are not considered permanent and may require replacement at some point in the future, today's implants are durable and long-lasting, and many brands come with extended warranties to back up their claims of durability and longevity.  Implants come in two different forms:
Silicone: Silicone implants have been approved by the FDA since 2006 as "safe and effective" for use in breast reconstruction.  Composed of a silicone outer shell and filled with a dense silicone gel, these implants continue to increase in popularity because they closely resemble the feel of human breast tissue.  Moreover, these implants are less likely to ripple or change in texture over time, making them ideal for patients with minimal natural breast tissue.  Silicone implants come in a full range of pre-filled sizes so you can select the size and profile that best suits your anatomy and your aesthetic tastes.  
Saline: Saline implants are composed of a silicone elastomer shell filled with a sterile saline solution (salt water) that, in the unlikely case of a leak or rupture, is safely and naturally reabsorbed by the body.  Saline implants do not come in pre-determined sizes, but can be precisely filled during your procedure to the exact size that you want.  Saline implants are more prone to rippling or other textural changes that may be visible when utilized with insufficient natural breast tissue.    
When faced with so many critical decisions at such a difficult time, when so many important details demand your attention, these and other choices relating to breast reconstructive surgery can seem overwhelming.  We are here to help.  We will guide you through the decision-making process slowly and patiently, helping you understand the range of options available to you and which options are most likely to achieve the results you want, to ensure that the result of your reconstructive surgery is a bust that is feminine, balanced, and absolutely beautiful.   
Contact Dr. Black & Dr. Arnstein
Dr. James Black and Dr. Michael Arnstein have combined their extensive experience and skills in the fields of cosmetic and reconstructive surgery into a practice that encompasses the highest standards of patient care.  Their cutting-edge surgical facility includes state-of-the-art workstations and incorporates the latest and most effective techniques in the industry.  Dr. Black, Dr. Arnstein, and their highly trained team are committed to offering unparalleled cosmetic and reconstructive services with only the highest level of professionalism and regard for safe, effectual aesthetic results.  The best plastic surgery procedures and non-surgical rejuvenation treatments with Dr. Black and Dr. Arnstein in Torrance, CA will leave you looking, and feeling, confident and radiant with supremely natural results!
If you would like to learn more about breast reconstruction utilizing implants with Drs. Black and Arnstein, please contact us at 310-530-4200 to schedule your initial consultation.  We look forward to hearing from you today!