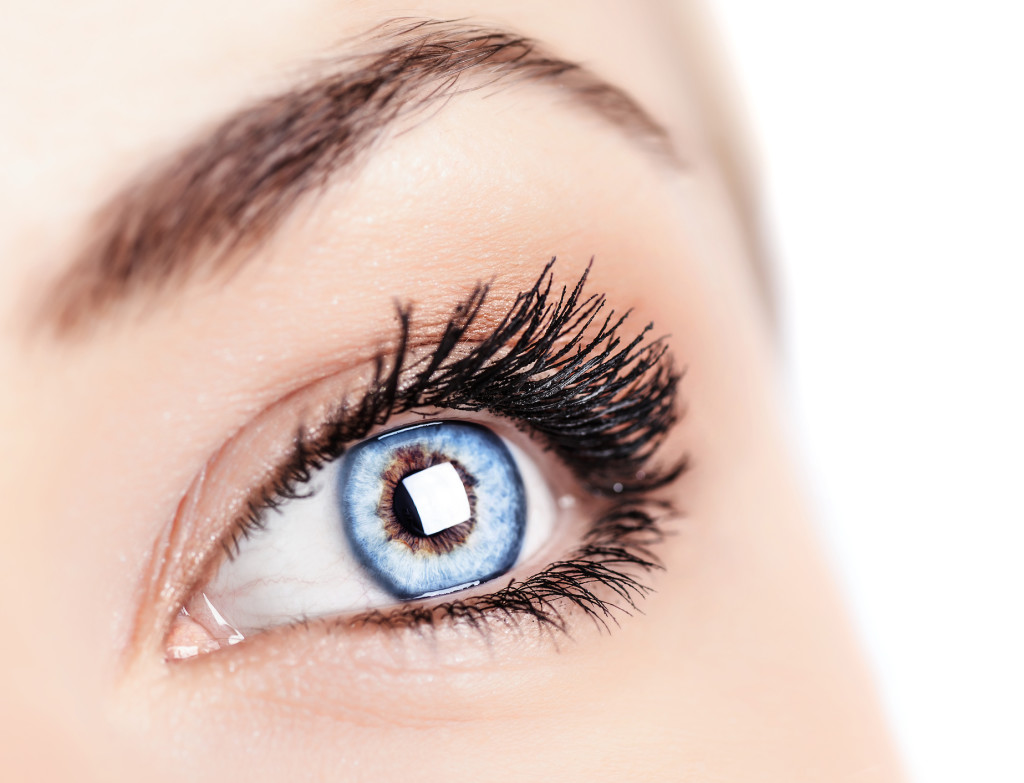 The human eye is a source of great beauty. It has often been called the window to the soul, and is the center of attraction for those who gaze adoringly upon a spouse, child, or loved one. The delicate curve of the eyelid, the gentle swoop of the lower lashes, and the smooth contours of the skin surrounding the eye all contribute to an overall aspect of health, beauty, and vitality.  Of course, the aging process takes its toll on all aspects of the face, and the area around the eye is not immune. Time, lifestyle, and heredity can contribute to crow's feet and wrinkles, sagging lids, and bulging bags that are the tell-tale signs that give away our true age, often causing us to look in the mirror and think "but wait—that's not ME."
For patients who present with sagging or bulging skin around the eye area, an eyelid lift, or blepharoplasty, can help restore an attractive and youthful appearance.  Whether the challenges are functional or cosmetic in nature, patients may require an upper eyelid lift, a lower eyelid lift, or a combination of both simultaneously.  Depending on your specific problem area(s), a blepharoplasty focuses on removing any excess skin, tightening loose muscles, and removing or re-shaping fatty deposits under and around the eye. The end result is a firmer, brighter eye area, free of wrinkles and sagging skin, creating a revitalized, refreshed, and more youthful appearance.  
Like all areas of the body, the area around the eyes is subject to the effects of aging. With time and exposure to sun, wind and other elements, the skin begins to lose its youthful vigor, resulting in sagging skin on upper and lower eyelids, as well as fatty deposits in the area beneath the eyes. Board Certified surgeon Dr. James Black and Dr. Michael Arnstein are skilled reconstructive and cosmetic plastic surgeons with extensive experience in effectively treating and repairing the area around the eye at their private surgical practice in Torrance, California.
Dr. Black performs both traditional (subciliary), as well as trans-conjunctiva lower eyelid surgery.  He routinely corrects "tear trough" deformities via fat relocation or transfer and incorporates the lower eyelid into the midface in a smooth seamless fashion.
Severe eyelid abnormalities are frequently referred to Dr. Black whom utilizes combinations of muscle tightening or resection, as well as skin and muscle flap techniques for optimal correction.
Upper eyelid ptosis is corrected by eyelid surgery alone, brow lifting techniques, or combinations of both.  Again all pre-operative planning and the surgery itself is done personally by Dr. Black and is customized for the individual patient.
Many of their patients have enjoyed the benefits of blepharoplasty:
Removal of excess fat, muscle, and loose skin from the eyelids in order to tighten and lift eyelid musculature, creating a refreshed, more youthful appearance

Correction of asymmetrical eyelids to improve facial symmetry and balance
Improving the appearance of the natural fold in the upper lid excising excess skin, which improves make-up use and eliminates the potential for obscured vision
Correction of puffiness and swelling in both upper and lower lids if necessary, as well as elimination of bagginess under the eyes, by the removal of excess fatty deposits

Minimizing "crow's feet" and other wrinkles around the eyes by removing excess skin, usually near the lower eyelid

Correcting upper eyelid ptosis (sagginess or droopiness)
How Does it Work?
Blepharoplasty begins with a series of careful incisions, placed along the crease of the eyelid where they will be most easily concealed. Excess skin and fatty deposits can then be removed, and muscle structures tightened to firm up sagging lids.
For repairing the lower lids, an incision is made along the lower lash line. This allows for the removal of fatty tissues that build up under the eye, as well as any undesirable excess skin. Alternately, a transconjunctival incision may be made along the inside of the lower eyelid. This is technique is employed to remove fatty deposits or "bags" under the skin, while the skin itself remains intact.
An eyelid lift is generally conducted as an outpatient procedure, and typically takes less than two hours, depending on the complexity and location of the area being addressed. The stitches will be usually be removed just a few days after the surgery, and patients should take care to give the area complete rest for at least a week. Although total healing of the eye area takes approximately six months, with rest, proper icing and head elevation, many patients feel "back to normal" within several weeks.
Contact Dr. Black & Dr. Arnstein
Dr. James Black and Dr. Michael Arnstein have combined their extensive experience and skills in the fields of cosmetic and reconstructive surgery into a practice that encompasses the highest standards of patient care.  Their cutting-edge surgical facility includes state-of-the-art workstations and incorporates the latest and most effective techniques in the industry.  Dr. Black, Dr. Arnstein, and their highly trained team are committed to offering unparalleled cosmetic and reconstructive services with only the highest level of professionalism and regard for safe, effectual aesthetic results.  The best plastic surgery procedures and non-surgical rejuvenation treatments with Dr. Black and Dr. Arnstein in Torrance, CA will leave you looking, and feeling, confident and radiant with supremely natural results!
If you would like to learn more about the benefits of blepharoplasty with Drs. Black and Arnstein, please contact us at 310-530-4200 to schedule your initial consultation.  We look forward to hearing from you today!